Welcome to visit our showroom!
Tel: 2606 2007 / 2606 2083 / 2606 2968
Recycling department's Whatsapp: 9521 1192 ( will not answer the phone )
Second Hand Shop Whatsapp: 6694 3660
Fax : 2606 1956
Email : chukongsh6694@gmail.com
Opening Hours : Mon to Sun & Public Holiday - 9:30 ~ 18:30
Address : Flat C2 & C4, 6/F, Block C, Tuen Mun Industrial Centre, 2 San Ping Circuit, Tuen Mun

**West Rail Tuen Mun Station Exit B, go to opposite platform no.1, take Light Rail 505 heading Siu Hong direction, get off at the next station (Kin On Station);
**can also take West Rail Tuen Station Exit A, and walk along Pui To Road for about 8 minutes, and we are just opposite Kin On LRT Station
Customer visiting in our showroom:
1. We are not liable for any injury whatsoever that customer may have whilst visiting our showroom.
2. Customers visiting our showroom are entering or agreeing to our Terms and Conditions.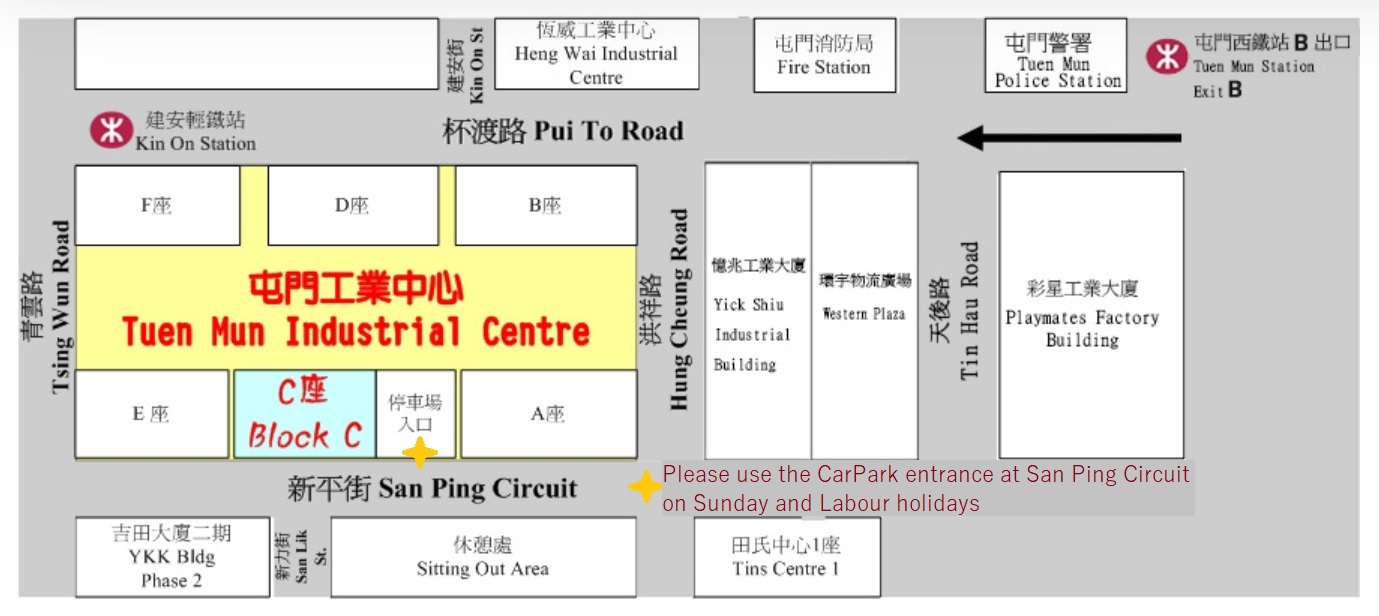 By MTR West Rail Line

Tuen Mun Station Exit A (Pui To Road), walk around 8 minutes, opposite to Kin On Station (Light Rail).
By Light Rail Transit
1) Kin On Station – Route 505
2) Tsing Wun Station - Route 610 / 615 /615P
By Bus
1) 258D : Lam Tin MTR Station → Po Tin
2) 57M : Lai King (N) → Shan King
3) 66X : Olympic MTR Station → Tai Hing
4) 506 : Tuen Mun Ferry Pier → Siu Lun (Circular)

5) 66M : Tsuen Wan MTR Station → Tai Hing
6) 961 : Wan Chai (HK Convention Centre) → Shan King
7) K58 : Fu Tai → Castle Peak Bay
8) 263 : Shatin MTR Station → Tuen Mun MTR Station

Get Off Point
258D、57M、66X、506、66M : Tuen Mun MTR Station
961、K58 : Tuen Mun Fire Station